I think that in every girl's seductive arsenal should be at least one really great vibe for those moments where you just need that extra bit of sensation to throw you over the edge. From
TooTimid.com
and by Doc Johnson, may I present your new best friend:
the Twisted Hearts Seduction Vibe.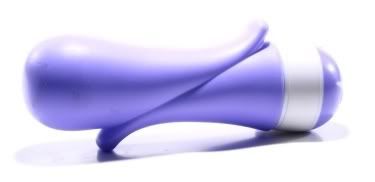 I'd like to think that I'm a bit of an expert when it comes to vibes after having used (and worn out) so many different brands and models. No matter, what you may think, every girl needs at least one simple vibe at her disposal but since there are so many I realize that its easy to get your head (or panties) in a twist just trying to figure out which one's are high quality and therefore the best for you. Trust me when I say this is probably one of the best little vibes I've ever had the privilege to play with.
A few fantastic things about this vibe are that its made of Phalate free TPR rubber which is non-toxic and has the greatest bit of give under the touch. Its also waterproof, sleek and all of its elements are sleekly lined and made with quality and care. It runs on two AAA batteries as well, but don't let that fool you; this little friend will always take you where you need to go.
I haven't always been a huge fan of Doc Johnson, but lately they've really been coming out with some great toys. To me, style and function really are one because everyone likes a sleek design in nice colors while still having a product retain quality and power. They've really done all this and more with this vibe and it shows.
When you look at this vibe you probably scratch your head and go "Why does it have such a strange design?" Well its function in form.
A main thing I love about this sort of off the wall design is that it has a great curve which gives in a great feel in the hand and those little nibbly points are really fun and add to the different sensations you can get. On top of having a really great design it has a nice heft to it which really makes you feel how much quality this toy has. I personally like to feel a toy in my hand when I use it and this great vibe does that for me.
The shape is also really great in that it gives you lots of different options for use. Its not like a pocket rocket type vibe where pretty much only the tip has something to offer you; it has its whole length with which to play and find your ultimate happy place with.
I give this vibe five out of five prize ribbons for its design and power:
........
...